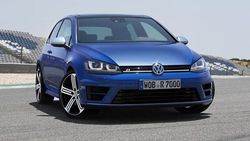 Volkswagen Golf R Mk7
It wasn't that long ago that only out-and-out supercars could break the 0-60mph barrier in under 5 seconds. Well, the world has moved on and now a Volkswagen Golf can. Say hello to the four-wheel drive 300ps Mk7 Golf R.
The 2.0 litre turbo petrol engine produces 280 lbs ft of torque, aided by the EA888 TSi engine but with a new cylinder head, valves, pistons and turbocharger.
The 6 speed manual gearbox powers the Golf to 60mph in 5.3 seconds or, with the optional 6 speed DSG box, you can shave 0.4 of a second off this time, coming in at 4.9 seconds. The new Golf R is electronically limited to 155mph, where laws permit such speeds.
Not only is it the fastest ever production Golf, it's also more economical than the previous Golf R with a combined mpg of 39.8 for the manual or 40.9 for the DSG version. CO2 emissions are also down to 159g/km - up to 18% more efficient than the previous model. The increased fuel economy is down to a new revised four-wheel system which disengages the drive to the rear wheels when coasting but kicks in within a fraction of a second when you accelerate again.
It's not just the engine that's been tuned, the suspension is a whole 20mm lower than the standard Golf MK7 and 5mm lower than the GTi. For those drivers who want a slightly softer ride, the new Golf R will be available with Adaptive Chassis Control as an option.
The new Golf R has the looks to go with the grunt, sporting a new front bumper design containing large air inlets and a modified radiator grille. 18" wheels are standard with further options available on release. The large ventilated brake discs help stop the 300ps monster with the brake calipers coming in a black-painted finish containing the 'R' logo, just for that extra bit of styling.
Moving round to the back, a new 'R' diffuser, smoked LED tail lights and 4 chrome-tipped exhaust pipes (2 each side) give it even more of a distinctive look over the standard Golf Mk7 and GTi models.
Features over and above the Mk7 GTi:
Fuel tank capacity up by 5 litres, from 50
Luggage capacity reduced from 380 litres (seats up) to 343 litres (due to the 4motion rear diff reducing the boot floor height)
Lapiz blue (as per pictures) introduced as Golf R only colour
18" 'Cadiz' alloys
'Race mode' for Adaptive Chassis Control
Bi-xenon headlights with 'double U' design LED running lights
Quad exhaust pipes with chrome caps
'Matt chrome' door mirror covers
Golf R dials, key and other external decals
Pricing
As at UK launch
Golf R 3dr 6 speed manual £29,990
Golf R 5dr 6 speed manual £30,555
Golf R 3dr DSG auto £31,315
Golf R 5dr DSG auto £31,970
The new Golf R is going to upset a few Focus RS owners when it launches in February 2014.
Related Links: Volkswagen Golf Mk7