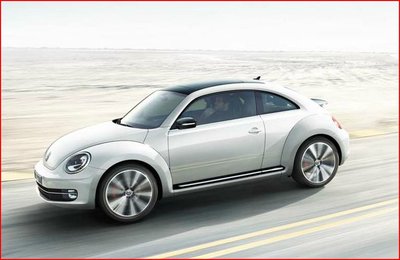 New Beetle 2012
First launched in the UK in 1953 the Beetle has been on our roads for a stagering 58 years. Selling over 21 million units in it's rear engine air cooled original version it holds the record for the longest production vehicle. 1998 saw it replaced by a water cooled front wheel drive model, breading a whole new generation of love for the Bug.
This year sees only the 3rd major change in 78 years. The 2012 model grows with the times being 6 inches longer and 3 inches wider than it's predecessor. Although only a 1/2 inch lower than previously, the new Beetle gives the impression of a much lower vehicle due to the squaring off of the roof line.
Models & Engines
From its 2nd April 2012 release date the new Beetle will come in three trim levels (Beetle, Design and Sport) and with 2 petrol engine variants. The 105 PS 1.2 TSi is linked to the excellent 7 speed DSG box and comes in 'Beetle' or 'Design' trim. The 160 PS TSi 1.4 engine is a 6 speed manual only for the time being and is available as 'Design' or 'Sport'
More to follow....
The initial launch models will soon be followed by additional engines. July 2012 sees the planned introduction of the 140 PS TDi lump with 6 speed manual or DSG boxes. September 2012 brings the 200 PS 2.0-litre TSi, again with 6 speed manual or DSG gearboxes. The year rounds of nicely with 105 PS TDi 1.6 engines with BMT (BlueMotion Technology) producing 114g/km emissions weighing in at the current band C road fund licence, releaving you of just £30 a year of your hard earned.
Have it just the way you like it
VW has been more than a little slow in coming to the party with 'personalisation' of models. Not so with the new Beetle. 12 colours, 10 interior trims and 6 sets of wheels means you can customise to your hearts content. The Design & Sport models have 'no cost option' alloys allowing you to pick between modern or retro designs.
Specification
The new 'Beetle' trim level spec is high from the off. The 'Design' carries through the exterior colour to the dash and door panels while the 'Sport' does what it says on the tin - Bigger wheels, black dash trims and sports seats. All the models come with the fabulous looking top hinged glovebox. It doesn't get more retro than that!
Beetle -
Manual air con
RCD 310 cd/DAB radio
Remote central locking
16" steel wheels
Body colour mirrors and bumpers
Design - over and above 'Beetle'
17" alloys
Front fog lights
Body colour dash trims
Multi-function leather steering wheel
MDI (Multi Device Interface - iPod/iPhone/USB connection)
RCD 510 touch screen cd/radio
Bluetooth
Alarm
Sport - over and above 'Design' trim
18" alloy wheels
Tinted glass
Sports seats
Piano black dash trims
Black wing mirrors
Parking sensors
Cruise control
Climatronic air con
Options
Significant options include Keyless entry (£340), Leather (from £1995), Panoramic sunrooof (£945), Bi-Xenon headlamps (£700), Metallic paint (£225) and Pearl effect paint (£470).
Perhaps the most exciting option is the 'Fender' sound pack at £495. Designed in conjunction with the legendary guitar manufacturer the system incorporates 8 speakers and subwoofer, pushing out 400 watts of pure music pleasure. The illumination around the speakers and door panels is colour switchable and surely the envy of all your mates.
Pricing - On The Road
Beetle 1.2 7spd DSG 105 PS (137g/km) £16,490 OTR
Design 1.2 7spd DSG 105 PS (137g/km) £18,895 OTR
Design 1.4 6spd Man 160 PS (153g/km) £19,470 OTR
Sport 1.4 6spd Man 160 PS (153g/km) £21,220 OTR

The New Beetle is open for ordering now from your local Volkswagen Retailer
Click here to download the New Beetle price list or brochure.
or open a new window to Volkswagen UK
Find out more about the New Volkswagen Beetle on Wikipedia

Please note that some images may not represent UK spec
Whilst vwgenuineparts.co.uk has researched the facts to the best of its ability, the opinions expressed in this article represent those of individual writers and unless clearly stated as such do not represent the opinions or policies of vwgenuineparts.co.uk. No claims are made or responsibilities assumed for the contents of externally linked websites. Unless otherwise stated, all contents are copyright ©
Related Links: Beetle 2012